Latest Version
469
MDK = 1.4
Jobs
At the moment we are searching for (a) talented:
No Jobs available
Top Sites
Affiliates
Partner:
Sponsors:

Community:
C&C Mods:

News

Let's celebrate

Written by: SHADOW, on 20.04.2014, 18:44 Uhr.
---
Ten years ago CWC was revealed to the public.



What a great day to celebrate!

Written by: Skleni, on 20.04.2013, 13:59 Uhr.
---
On April 20th, 2004 CWC was released to the public, which happens to be exactly 9 years ago today. That's a great reason to celebrate, if you ask us. But before we open the champagne, we also have two announcements to make:

Our forum is even older than the mod itself, and we had to close it for new registrations a while back. Starting today, we want to provide an easier and more modern way for you to stay in contact with us, which is why we created a



Be sure to like it and spread the word! It will keep you informed about possible updates or other CWC related news.

Which brings us to the second announcement. If you ever got bored by CWC, you now need to find another excuse for not playing it anymore. Today, on our 9th birthday, we proudly present



For those of you who don't know yet, that's the codename for a random map generator for CWC. It can generate complete and fully playable skirmish maps in a matter of seconds. And do you know what's even better? It's open source! You can download, modify or extend the source code.

So now, on to the party!




So long, enjoy,
the CWC team

Merry Christmas!


Written by: Skleni, on 24.12.2012, 19:51 Uhr.
---
Hey guys,

we want to wish you



Merry Christmas!



Hopefully you can all enjoy the last few days of the year.

Since christmas really is not about the presents (or is it?), we have something else for you instead: a little teaser




Cheers,

the CWC-Team

11th annual Mod of the Year awards

Written by: Widowmaker, on 03.12.2012, 11:06 Uhr.
---
Hey guys!

once again it's time for the ModDB's 11th annual "Mod of the Year" contest .

For those of you who already now what this is all about, simply head over to ModDB and select your favorite mods (and hopefully CWC).

We were able to make it into the "Top 100" 6th times in a row since we started CWC in 2004 till 2010, last year we didn't make it into the Top 100 - but can we do it again?

With your help we hope to achieve it again this year for the 7th time. Show them that CWC is still loved and played by many people around the globe.

Details about the contest and the rules and the prizes can be found here .

To nominate a mod for the "Top 100" just click the "Vote" button in the mod's profile. Our profile can be found by clicking the pic below.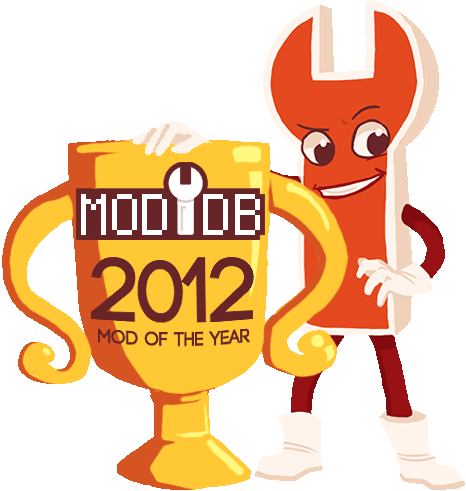 So long,
the CWC-Team

Forum Registration deactivated


Written by: 2312222, on 18.09.2011, 23:10 Uhr.
---
Hello everyone!

Just to let you know, we deactivated the option to register with our forums since we had some problems with spambots lately. Of course, users who are already registered may use the forums with no limitation. All new users may solely search the forums.

We're sorry for the inconvenience, but at the same time, there's been little action lately and most topics have been discussed and are thus now archived for everyone to read.

Thanks and greetings,

the CWC-Team
---

[...to Topic | Comments: 19 | 23921 Views | Topic closed!]
---
Last Threads
Topic/Forum
Created
Clicks
Replys
Last Post
Another try. Now in 2016...
Forum: CWC General Discussion
08.10.2016, 00:43
by: BliTTzZ
379
5
View distance of units?
Forum: CWC General Discussion
10.08.2009, 22:47
by: Robok
8852
83
The CWC fuel system - Comments
Forum: CWC General Discussion
24.04.2006, 22:19
by: Skleni
64606
158
CWC 444 Airpower
Forum: User-created Content
25.06.2010, 21:21
by: Marlboro
44495
38
Being optimistic and looking for comrades
Forum: CWC General Discussion
29.06.2015, 23:09
by: Dervinho
7228
3
Updating to 469
Forum: CWC Addons
28.04.2015, 11:15
by: Ranger_Logan
4588
1
Let's celebrate
Forum: CWC News
20.04.2014, 18:44
by: SHADOW
15915
11

27.12.2014, 17:18
by: sweln

Nostalgic catch up for the old CWC crew? (2003-2006)
Forum: Off-Topic
17.02.2013, 01:02
by: Jonny
34296
15
usa tanks\soldjers!
Forum: USSR
18.06.2011, 16:49
by: IBRAHIM
13929
5

07.06.2014, 01:49
by: Dot

Simcity 4 and CWC
Forum: Off-Topic
12.04.2014, 19:57
by: liamNL
19842
3
Poll
2 players - skirmish
2 players - advanced skirmish
3 players - skirmish
4 players - skirmish
Results
Statistics
Newest User: admiraljr01
Registered Users:
4562
Administrators:
4
Threads:
3630
Super Moderators:
0
Posts:
46064
Moderators:
0
Smilies:
31
Avatars:
327
Inactive Users:
2
Blocked Users:
14
Who is Online?
---
0 Members + 63 Guests
IRC Chat
IRC Chat:


You can also join this Chat useing our IRC Applet to talk with us over the CWC website.



Its easy, its fun!
Click on the irc:// before the channel name to join the chat with your own copy of mIRC, klient, or IRCle.